At Maidao Glass, we continually strive to be one of the foremost players in the arena of glass packaging by offering products and services exceeding customer expectations. We are committed to continually enhance customer satisfaction and improving effectiveness of our quality management system by:
Continuously improving our operations by analyzing the performance against the targets.
Consistently meeting customers and other applicable requirements.

 

Involving our employees and associates in identifying and achieving objectives.

 
We constantly encourage and implement multiple quality and technological initiatives from our design, operations, and quality teams for higher product quality, process effectiveness, and higher customer value.
BOTTLE QUALITY CONTROL POINTS
When molten glass is blown into a cast iron mould, there is always slight variation. There's no getting away from the fact that each and every bottle is minutely different.
Our QC staff are positioned on line at the factory to constantly conduct quality control on all of our own production runs, 24 hours/ 7 days. They monitor variations and trends, acting quickly to deal with any out-of-spec production that may occur from time to time.
Bottles are routinely checked on the production line, after the electronic inspection station, prior to palletisation. The monitoring points include compliance tests against recognised standards, as well as physical and visual checks to ensure bottle performance and aesthetic expectations are met.
These checks are conducted throughout production and any deviation from the agreed standard will ensure the bottle is rejected.
We pride ourselves on the trueness of our label faces, integrity of the BVS parameters and resilience of the surface coating.
During production, the main QC points our staff look for are:
Anti-thermo shock behaiour
Internal Stress
Internal Surface
Bottle Mouth Finish
Bottle bore and neck
Slope of finish
Surface cracks and checks
Air bubbles
Smoothness of surface
Mould joint – seam visibility
Cat scratches
Scissors cut imprint
Washboard "neck creases"
Capacity at fill point
Weight
External diameter / ovality
Vertical axis
Bottle height
Side wall and base thickness
Sink & Bulge of label panel
Surface treatment
Pallet shroud integrity
Pallet stability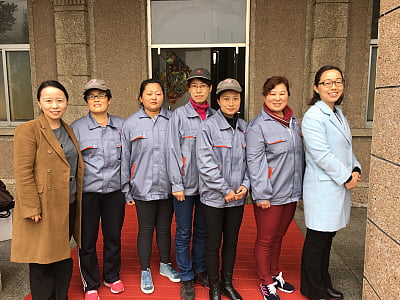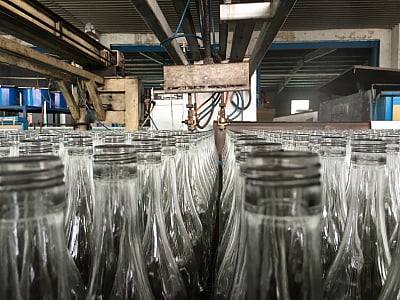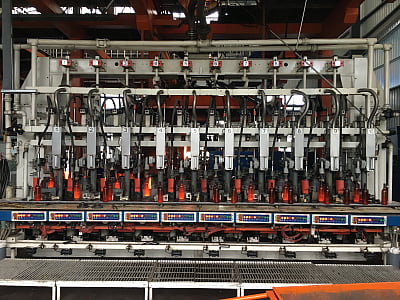 The team has a passion for making sure that Maidao Glass delivers consistent, high quality product. Helping ensure customer needs are clearly understood.
Our Quality team is your advocate in the world of packaging quality.
Level 1
Level one happens at the glass forming machines, immediately after the bottle is formed. The line operator along with the quality controller carryout a hot-end sampling for dimensional checks.
Level 2
Level two is a hot-end ware rejection, which is an automatic process, to ensure quality of the bottles after bottle swabbing.
Level 3
Level three, the bottles are put into an annealing chamber, where they are gradually heated and cooled to de-stress. The bottles then pass through a series of automatic and camera based inspection machines. These machines check for body defects, neck finish, bubbles, foreign matters.
Level 4
Level four, the bottles are shrink-wrapped by automatic machines, and a sample of these packed bottles is put through a Quality Assurance (QA) process to check for defects.
Level 5
Level five, the container which is used for transport is fumigated and checked for cleanliness and hygiene criterions, prior to stuffing.